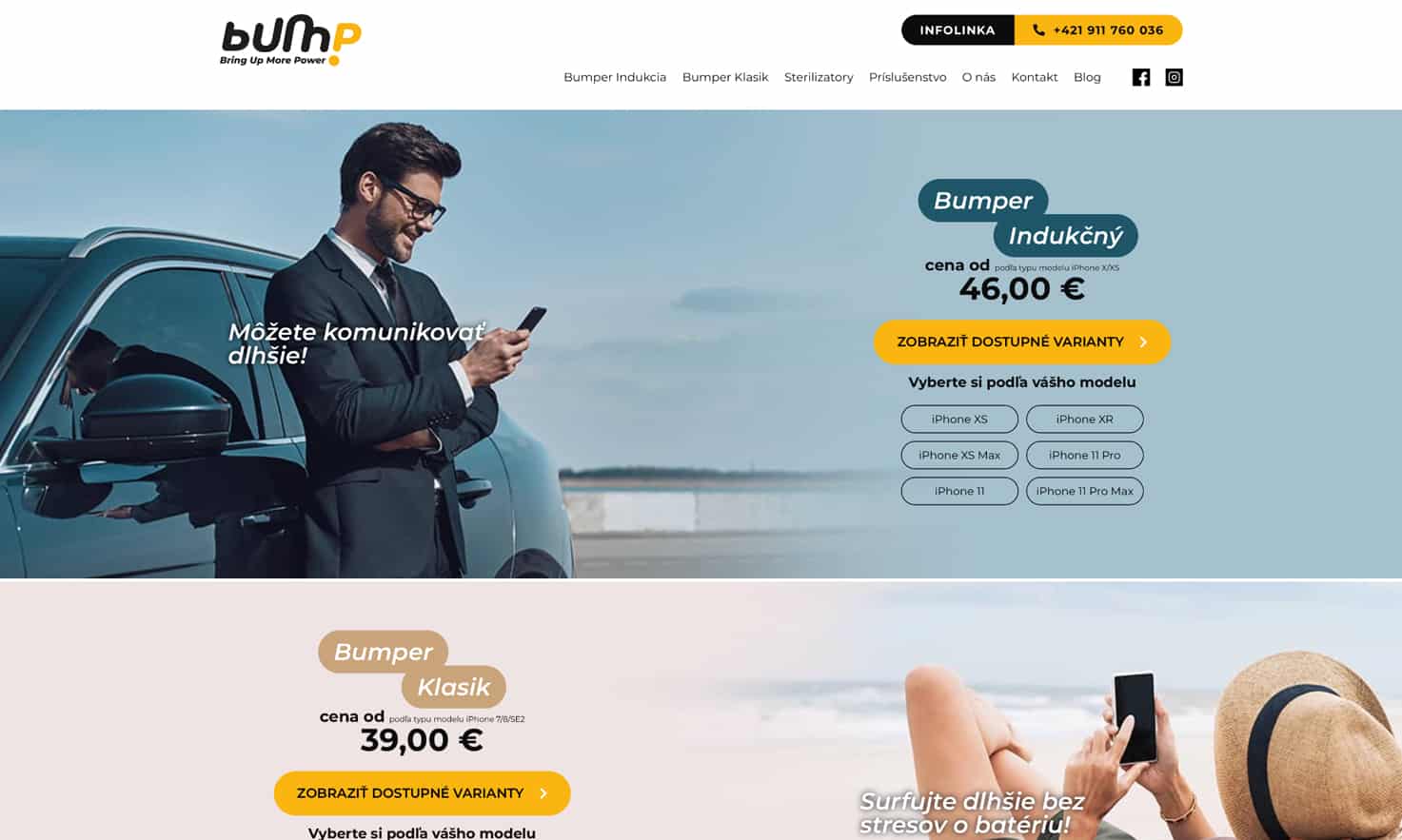 Určite to poznáte – mobil sa vám vybije práve v tej najnevhodnejšej chvíli. Žalostne krátka životnosť baterky a večné piplanie sa s powerbankami sú dennou realitou mnohých z nás a tak sa spoločnosť bUmp rozhodla prísť s revolučnou novinkou, ktorá zabila hneď niekoľko múch jednou ranou.
Obal na puzdro, ktoré je zároveň powerbanka, je maximálne praktické, ľahunké a funkčné. Chýbala mu už iba jediná vec – a to kvalitná komunikácia a prezentácia.
Zadanie:
Pri klientovi bUmp sme do toho išli full-power prostriedkami. Začali sme takmer úplne od piky a teda bola pred nami tabula rasa webu i komunikácie.
Vízia a realizácia:
V prvom rade sme pripravili návrh webu, ktorý sme zrealizovali podľa požiadaviek klienta. Správa a údržba webu ostáva počas doby spolupráce v našich rukách. Ďalej nás čakalo vytvorenie profilu na Facebooku a komunikácie s publikom. Naša práca pokračuje správou Facebooku prostredníctvom pravidelných publikácii príspevkov. Kompletná grafika a kampane boli rovnako pod našou taktovkou.
Budúcnosť:
Dopĺňanie ďalších funkcií na základe požiadaviek klienta, správa sociálnych médií a kontinuálna komunikácia so zákazníkmi.