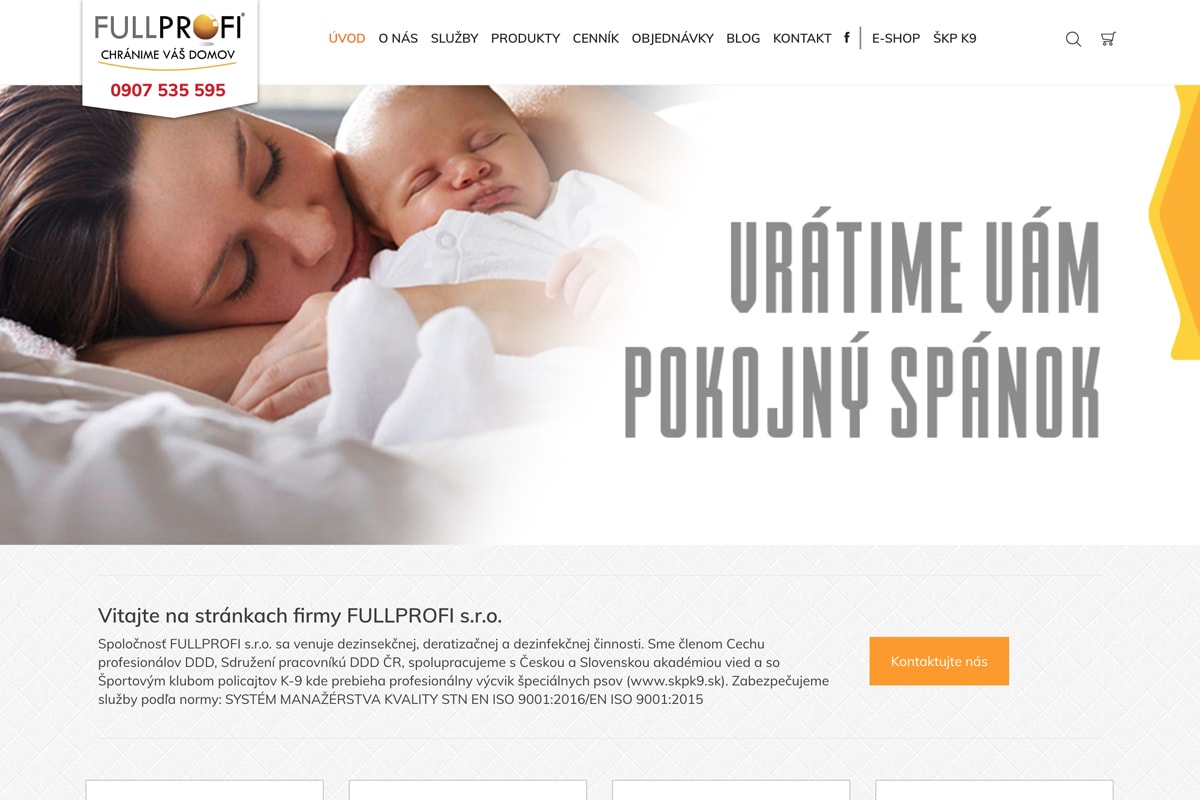 New website, e-shop and professional copywriting for FULLPROFI disinfestation company
FULLPROFI can cope with bedbugs and other saboteurs. In our Signus creative studio, we know how to build a modern and functional website. And when two companies leading in their market type connect, a successful collaboration is guaranteed.
They have been on the market since 2011 and everything started with bedbugs. Police pyrotechnician and cynologist Ján Löw wanted to set up a company that would effectively, progressively and safely dispose of bed parasites. Mrs. Andrea was not quite sure about the idea at first, but now she sees it differently. Up to about 12 diagnostic and 6 intervention exits are taken daily against bed bugs.
FULLPROFI specializes in monitoring and disinfestation of bugs and other parasites in homes or public spaces. In addition, they were the first in Central Europe who began to use trained dogs to find bedbugs. The success of such a unique process is up to 99%. In addition, they also focus on professional disinfection and rodent control. All this with an emphasis on safety and ecology.
Assignment
The aim was to create a new website and e-shop according to the client's wishes, which will clearly communicate the services provided. The assignment included editing and creating professional texts on the web and blog.
Vision
Since the company offers a number of services and an e-shop is part of the website, functionality and user simplicity were paramount. We have processed the texts into a clear form, which will bring the exacting topic to the uninitiated people.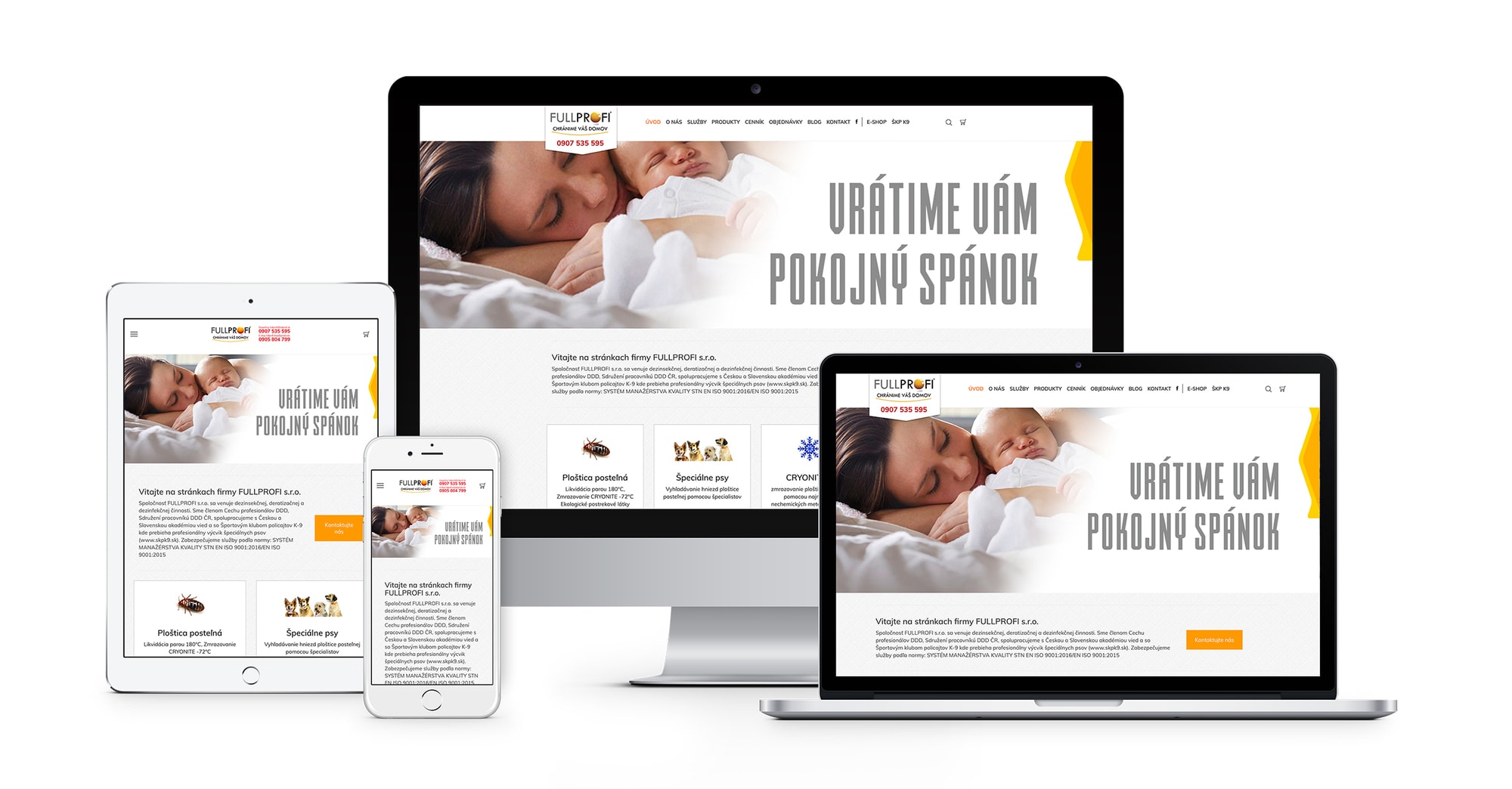 Implementation
1. Design of a new website connected with e-shop
For FULLPROFI client we built an extensive website with a number of subpages, information, products, services and a separate e-shop. To make it easier for visitors to navigate and save time, we put the emphasis on large sliders with engaging photos and striking text.
We have designed a particular wireframe layout with regard to UX / UI (User Experience / User Interface), which logically leads the visitor throughout the entire site without being lost in its content. Well-arranged menu, distinctive direct link buttons or footer navigation are all elements of a functional site.
2. Complete web implementation according to graphic proposal – html, css
According to a defined plan, we afterwards proceeded to implementation. Subpages are unified and naturally follow up. The home page will immediately introduce the company, main services and certification.
We have divided the e-shop products into several main categories. There is filter, search option, or display of stock products. The product page reveals more needed information and offers similar products from the category.
There is a visible contact in the page header, such as instant call-to-action and a Facebook link.
The final web is fully responsive, so its display is adapted to various screens (tablet, mobile, PC).
3. Preserving linking from old web and e-shop
Since our client already had an existing site that some visitors were accustomed to, we had to keep the original links. We did not want satisfied customers to face disappointment when switching to re-design.
4. Professional copywriting texts on the web and blog
The topic of rodent control or disinfestation is challenging in itself. The company that provides such services must also educate visitors of the site. Many of us have no idea that they might have a similar problem. The biggest mistake among people is the opinion that bedbugs and parasites are only where there the dirt is.
New texts on the web are clear, accurate and factual. We intent to provide the visitors with answers to their questions as well as to solutions to their problems.
Everything that people are interested in should be used by the company for its benefit and dedicate to it on the blog. In the case of FULLPROFI, it is clearly their clever dogs. Thanks to such articles, FULLPROFI approaches their current and potential customers and relieve the unpleasant topic.